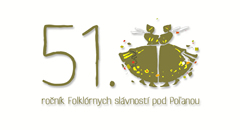 8 - 10 July 2016
The Folklore Festival Poľana
51th Year – The international festival of folklore and traditional folk culture – Folklore Festival Poľana is one of the most successful events in Slovakia. Since its beginning in 1966, this festival has been held every year
in the second week of July in Detva, the heart of Slovakia and the centre of one of the most vivid and original folklore regions. During these days, Detva blossoms with the music, singing, festal atmosphere, and welcomes approximately 1,500 performers.

There will be approximately ten scenic programs on the stage of the Detva amphitheatre, which is one of the most impressive outdoor scenes. The basis of the programs is the traditional folklore culture in central Slovakia, musical and dance performances and oral lore. Year after year, folklore groups and groups of Slovaks living abroad present themselves in the program called "Krajanská nedeľa".
More info:http://www.fspdetva.sk/