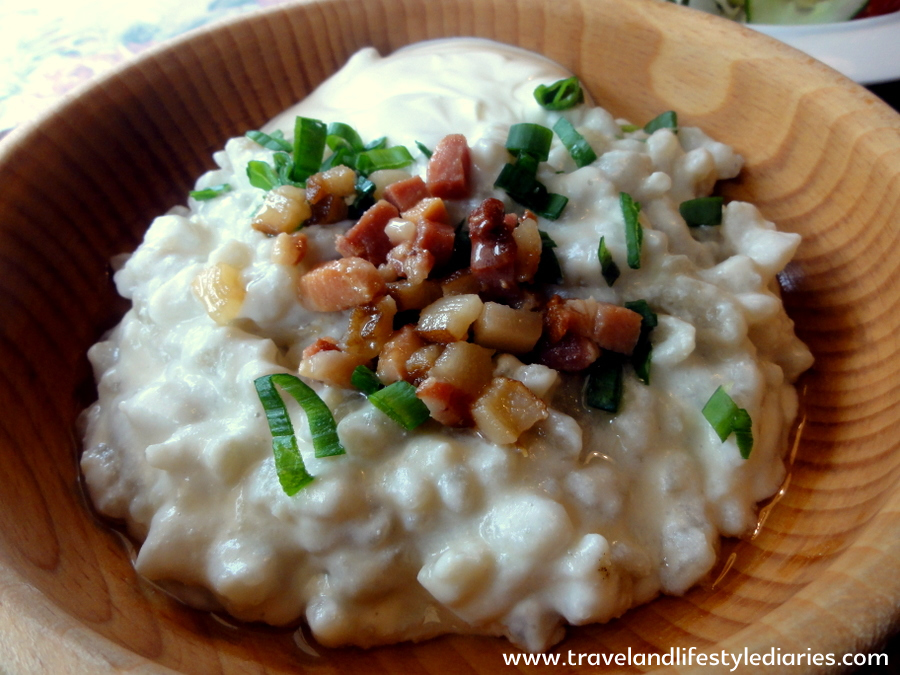 In Slovakia there are a lot of restaurants that offer typical Slovak specialities, and the specialities of the neighboring countries, too. Especially you can taste Hungarian, Czech and Austrian cooking that influenced the original Slovak cooking.
The Slovak most typical of all Slovak dishes is "bryndzové halušky" - potato dumplings with special sheep's cheese and fried bacon. The menu of the restaurants offer the typical Slovak soups, as for example: the soup of garlic, onion, of potatoes, sauerkraut, bean, lentils, and so on. Soups are dense and nourishing and, expecially in the past, replaced the second dish.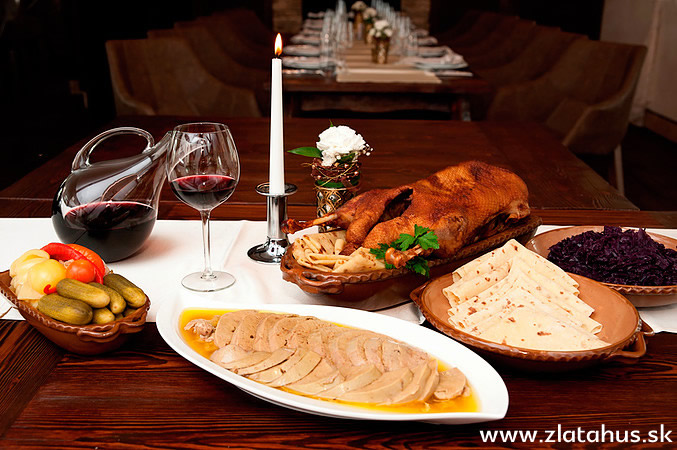 The typical Slovak dishes are: the speciality of the Slovakia south and west - roast of goose and roast duck, the typical dishes of all Slovak country - speciality of game, speciality of pig (a lot of kinf of sausages, …), dishes based on fish, above all carp, pike and zander.
In the past, Slovak cooking had a lot of dishes without meat, above all based on flour, like for example the already mentioned halusky (small dumplings) - that where prepared by a mixture of flour and potatoes, accompanied with cheese of sheep (bryndza), covered with bacon, or with the combination of sauerkraut, or of cottage cheese, the pirohy - that are a kind of Italian ravioli, that are stuffed with cottage cheese, sheep cheese (bryndza) or, the sweet version, with jam, cover with poppy or with the minced walnuts.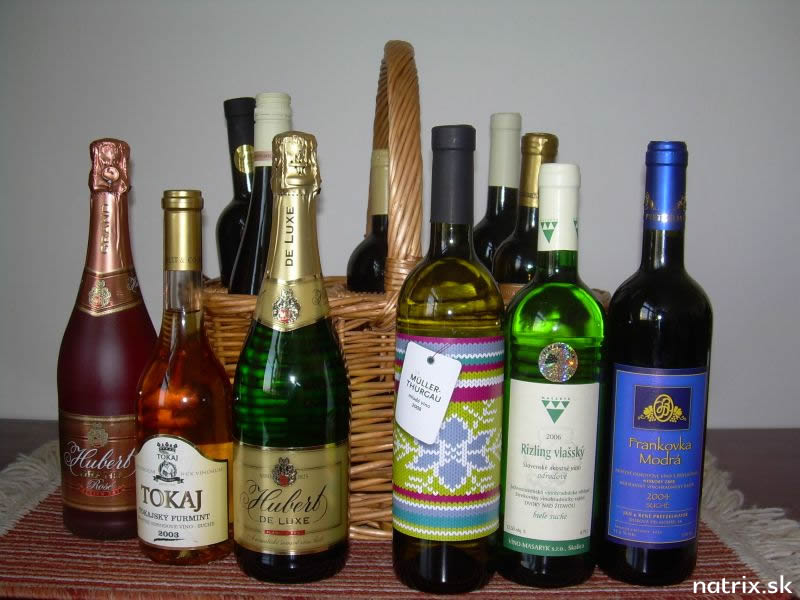 The excellent taste and aroma of the Slovak specialities are well accompanied with the excellent quality of Slovak wines, from the zone of Bratislava (Rheinriesling, Welschriesling, Gruner Veltliner, Traminer, Silvaner and Muller-Thurgau) and of eastern Slovakia (Tokai), but also with the great offer of Slovak beers (Zlaty bazant, Kelt, Topvar, etc).
The typical Slovak aperitifs is slivovica (plum brandy), borovicka (juniper brandy), demanovka (herb liqueur or herb bitter).
SOME TYPICAL DISHES
Kapustnica - Sauerkraut Soup
Bryndzove halusky - Potato Dumplings with bryndza cheese
Husacia pecienka - Goose liver
Pstruh na rasci a zemiaky - Cumin trout and potatoes
Svieckova na smotane - Tenderloin on Cream
Pirohy s lekvarom - Pirohy ("ravioli") with jam
Rezance s makom - Poppy Seed Noodles
Slivkove/tvarohove knedle - Plum/cottage cheese dumplings
BEVERAGES
Water - voda
- soda - perliva voda
- mineral - mineralna voda
Aperitif - aperitiv
Brandy - palenka
- Slivovitz - slivovica
- Gin - borovicka
Beer - pivo
- draft beer - capovane pivo (ciapovane)
- lager - svetle pivo
- dark beer - tmave pivo
- white wine - biele vino
- red wine - cervene vino
- mulled wine - varene vino
- semi-dry wine - polosuche vino
- young wine - burciak
- dry wine - suche vino (ssuhhe)
- cask wine - sudove vino
- sparkling wine - sumive vino (sciumive)
Coffee - kava
- espresso - preso kava (presso)
- coffee with cream - kava so slahackou
- Viennese Coffee - viedenska kava
- Turkish coffee - turecka kava
Juice - dzus/stava
- orange juice - pomarancovy dzus
- fruit juice - ovocna stava
Tea - caj
- tea with lemon - caj s citronom