The archaeological discoveries proved that the town and its surroundins were settled in the New Stone Age. Under the hill called Old Levoca during the archaeologists excavated were found the foundations of a Romanesque church, the size of which was quite respectable: it is 23.5m long, the width of the nave is 12m and the apse is over 8m. It was the Church of St. Nicholas dating back to the 11th-12th century.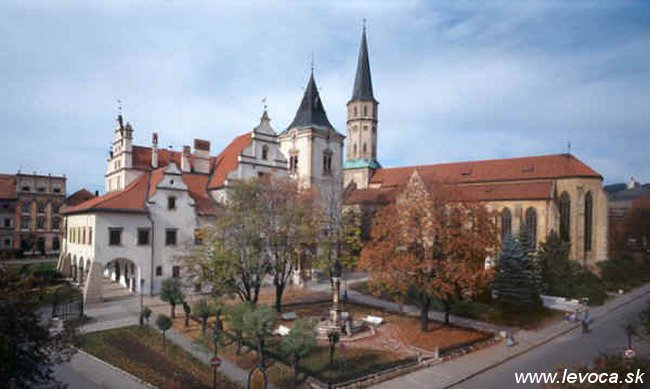 The oldest document, where Levoca is mentioned for the first time, was issued by Hungarian king Belo IV in 1249 after a Saxon immigration wave, the Levoca town became the administrative capital of the region Spis. In 1323 Levoca became a free royal town. Between 1370 and 1410 he town was fortified with wall. Thanks to its advantageous position on the crossroads of trade routes and substantial support of the both political and economic priviliges from the rulers, finances started to flow to the town's treasure, as well as to the burghers' purses, allowing general development. The 15th and 16 th century it was the period of architectural, educational, cultural, artistic and crafts splendour and th town becoming a neuralgic center of the north Hungary.
For all the 17th and the beginning of 18th the century the fortunes of Levoca was reversed as a result of one failed antiHasburg uprising, to the wars and the plague. The commerce resented a lot of this period of stagnation. Only the press of the books remained to a good level. The Breuer's printing offhouse was printed a various press, including the masterpiece Orbis Pictus by Jan Amos Komensky, written in four languages.
In 1950 Levoca's historical center was declared an Urban Preservation Area. In 2009 together with the work of Master Paul has been included in the list of UNESCO's Heritage.