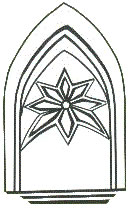 The gothic route is a novelty in the field of the cultural and roads theme across Slovakia. It is divided in four main parts, in which the tourist can visit castles, quite preserved historical units in some towns, museums, cathedrals, but also small churches of the country, the middle-class houses or the romantic stone bridges.

The gothic route is signalled along the roads with brown and white color signs. The logo it's a gothic shape arc wit the notice "Goticka cesta".
The attraction is increased by the fact that the road goes through natural territories like the national parks of the Slovak Paradise, national parks of Muranska planina and of Pieniny. In the tourist region of Gemer the road licks the national park of the Slovak Karst, where you can visit known caves protected by UNESCO.
THE ROUTE SPIS - GEMER
Levoca: St. Jacob's Church, Town Hall - museum
Dravce: The gothic stone bridge, Antoniti Church
Spissky Stvrtok: the Church of St. Ladislav and the chapel of Zapolsky
Spisska Nova Ves: the Church of the Assumption of the Virgin Mary and the tower
Markusovce: the mansion house of Markusovce and the summer house The Dardanels - museum
Dobsina: the Protestant church, possibility of to visit the Dobsinska Ice Cave
Stratena: the Church of St. August
Muran: the ruins of the castle of Muran
Revuca: the Church of St. Vavrinec
Chyzne: the Church of the Annunciation of the Virgin Mary
Stitnik: the Protestant church
Ochtina: the Protestant church, possibility of to visit the Ochtinska Aragonit Cave
Kocelovce: the Protestant church
Betliar: the mansion house at Betliar; museum and park
Roznava: the Cathedral of the Assumption of the Virgin Mary; the Protestant church; the tower of guard
Krasnohorske Podhradie: the castle of Krasna Horka; Gallery of the family
Andrassy; the mausoleum of the family Andrassy
Smolnik: the St. Catherine's Church
Gelnica: the Church of The Assumption of the Virgin Mary, the museum of the mine
Krompachy: the Church of St. John Apostle Evangelist
Spisske Vlachy: the Church of St. John the Baptist
Zehra: the Church of the Holy Spirit
Spisske Podhradie: the castle of Spis, the Church of the Nativity of the Virgin Mary
Spisska Kapitula: St. Martin's Cathedral
Spisský Hrhov: the neo-baroque mansion house
THE ROUTE SPIS - HIGH TATRAS (from 2000)
Vrbov: the Church of St. Servac
Lubica: the Church of the Assumption of the Virgin Mary
Kezmarok: the wooden Protestant church; the Holy Cross Church; the castle-museum of Kezmarok
Velka Lomnica: the Church of St. Catherine of Alexandria
Poprad: the Church of St. Egidius; museum of the Tatra
Poprad-Spisska Sobota: St. George's Church
Poprad-Matejovce: the Church of St. Sthephan the king
THE ROUTE SPIS - PIENINY (from 2000)
Strazky: the mansion house; the Church of St. Anna
Spiska Bela: the Church of St. Anton the hermit
Slovenska Ves: the Church of the Virgin Mary
Spisska Stara Ves: the Church of the Assumption of the Virgin Mary
Cerveny Klastor: the Carthusian Monastery with its church
Stara Lubovna: the castle-museum of Lubovna; the Church of St. Nicolas
Hranicne: the Church of the Virgin Mary
Podolinec:the Church of the Assumption of the Virgin Mary; the Church and Monastery of the Piarist
THE ROUTE GEMER - RIMAVA (from 2000)
Tisovec: the Protestant church
Rimavske Brezovo: the Protestant church
Kyjatice: the Protestant church
Kraskovo: the Protestant church
Rimavska Bana: chiesa evangelica
Rimavska Sobota: the museum of the regions Gemer-Malohontske
Ciz-terme: spa town
Sip: the Protestant church