Open: 1.5 - 31. 10.
Closed: Monday
Duration of the guided tour: 60 min.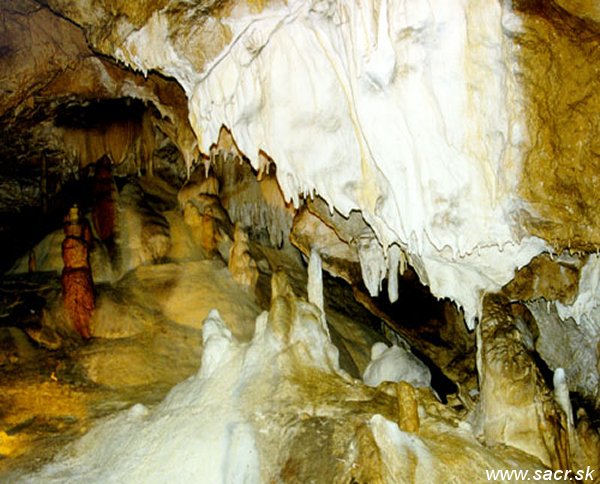 Situated in the Harmanecka valley, in southern part of the Greater Fatra, to the northwest of Banska Bystrica. It was formed in the Middle Triassic limestones by the ancient paleoflow, at two developmental levels.
The overall length of the cave is about 2,650 m. The cave is known for a rich occurrence of white soft sinter. Mighty pagoda-like stalagmites, sinter waterfalls, draperies and sinter pools can easily catch your eyes.
The later discovery of the cave in 1932 wasn't a result of a chance but a goal-directed heavy work of 18 years old Michal Bacúrik, who after 14 day dug out a narrow opening – now the Discoverer's Passage and entered the snow white hall later called the Discoverer's Dome. It is interesting that the discoverer was fined for this because he didn't have the permission from the town forest office to enter their forests.
Harmanecka Cave was opened to the public for the first time in 1950. During the visit of the cave visitors must do well in 1042 steps. The largest accessible part of cave is called the House of Pagodas, high 28 meters. The formations of huge pagodas measure up to 12 m. Inside the cave, living primitive plants and 10 species of bats.
As in all the caves here, visitors can also get into the fantasy: in the House of the Labyrinth 105 m long, you can admire the panorama on the High Tatras, then there is the petrified mirror of the cave, the Stone of Justice, which "falls" on the evil people who walk inside the cave.
The lower part of the cave is called Riecisko. Among other interesting rooms remind the Hall of peas. The lakes in green are considered the most beautiful part of the cave. Inside the cave there is a "pot", which became the symbol of the cave. It is said that one wish of the person who hits him with a coin.