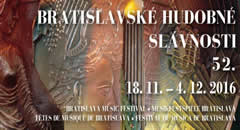 18 november - 4 december 2016
Bratislava Music Festival
The 52nd year of the Bratislava Music Festival is the most important and most prestigious international festival in Slovakia
with a long tradition (1964). Since 1973, BMF has been the only Slovak representative in the European Association of Festivals EFA, based in Brussels.
Bratislava Music Festival is an annual presentation of the artistic level of the leading hosting foreign orchestras, conductors and soloists and local artists in the dramaturgy of interesting programs. On the 52nd BHS will be held 22 concerts.
More info:http://www.bhsfestival.sk/